The Organized Dollhouse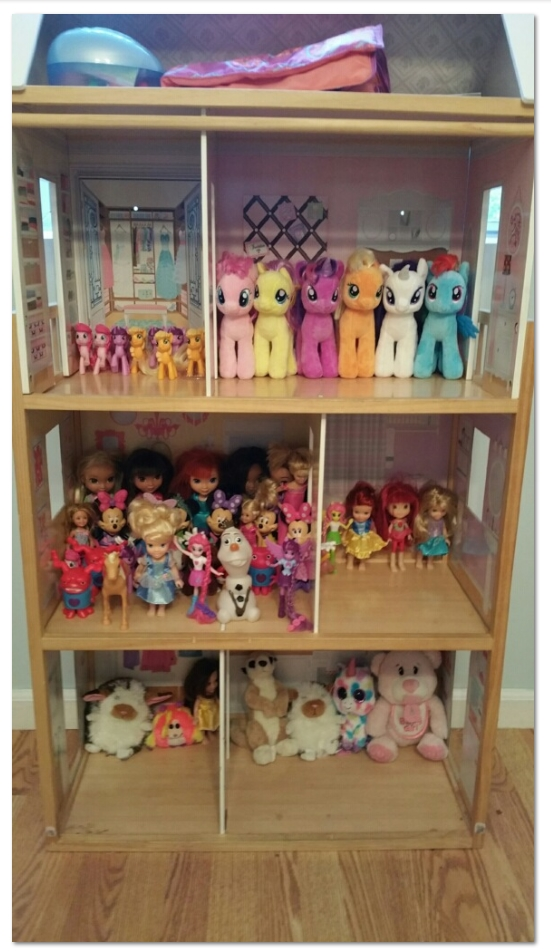 Wow! Look at these beautifully organized toys! Who did this? A mom organizing her kid's playroom? A store getting ready for a big sale? A photographer prepping for a photo shoot? A stager readying a home for an open house? No! It was done by three-year-old Ashley! Incredible!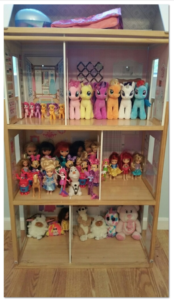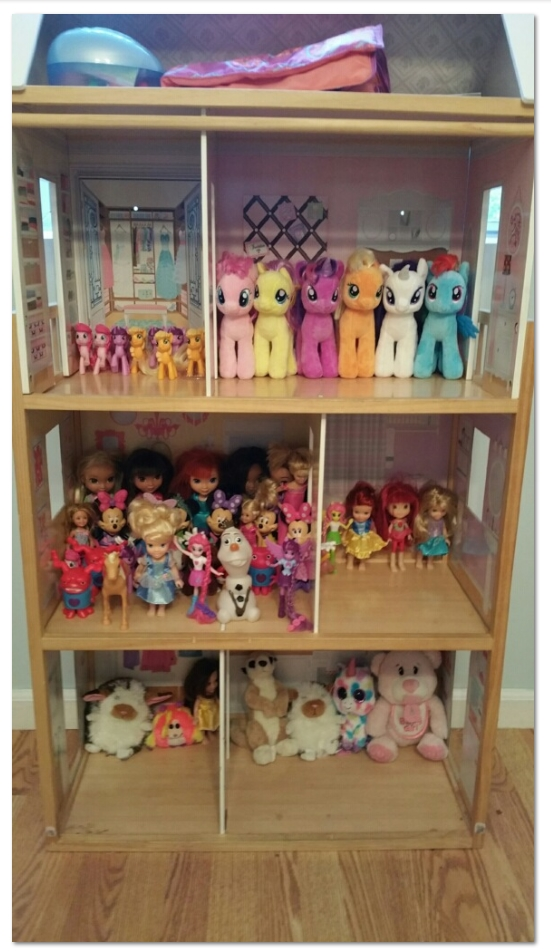 "She has been organizing since she could walk," states her mom. "Ashley loves to organize. Not only does she organize all her toys but also her twin sister's clothes, the DVD collections, and the family snack drawer."
What can we learn from the skills of this gifted three-year-old? Here is how I would describe the strategies Ashley uses:
Like things together – This is one of the cornerstones of organizing. Notice how all the toys are grouped together by size, height, and type on the top and middle shelves (smaller ponies, large ponies, dolls).
The quantity fits the space – Observe how nicely each type of toy fits in the space with room to spare. Nothing is crowded or jammed. Ashley can easily access any toy without disturbing the organization. See in the middle left cube how the taller dolls are in the back. She can reach in and take the doll of her choice to play with because they are all easily accessible.
Group one-off items together – The bottom two shelves are filled with a variety of stuffed animals of different sizes and shapes as opposed to the other shelves that have like items. Think of your kitchen drawers with one-off cooking supplies: turkey baster, icing spatula, ice cream scoop. Pick a right-sized container and keep these odds and ends all together.
Container Size – The height of the dollhouse is just the right size for Ashley. She can access each shelf without reaching. In your own home, place frequently used items within arm's reach and less used objects higher or lower.
Open shelving – If these toys were in drawers, they would not be so organizationally pleasing to look at. Open shelves (think linen closets and kitchen cabinets) will keep all your items visible and make it easier to find what you are looking for.
I hope Ashley has inspired you to work on your organizing projects. Maybe Ashley will be a Professional Organizer someday!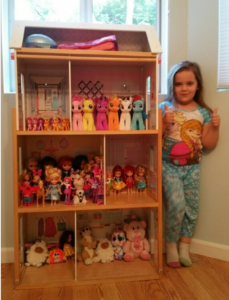 Happy Organizing,
Susan