Happy New Year? But it's only September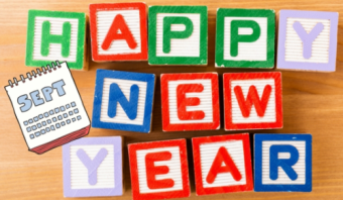 Over the past few weeks I have heard several people refer to September as if it's the start of a new year: "I'm planning on starting in September" or "I'm gearing up for September." Many things contribute to this feeling that September is a time of new beginnings:the start of the new school year, the end of summer and the beginning of fall, the new TV season and the Jewish New Year. I always associate September with a surge of new energy brought about by the change in temperature as it becomes more comfortable both indoors and outside. Here are a few enjoyable activities that are great for this time of year:
Weekend getaways to popular spots like Maine and the Cape  now have off-season rates. There's still plenty of beautiful scenery and tourist activities even if you're not a September swimmer.

It's a great time to stock up on office and school supplies, since the stores have big sales on back to school overstock.

The weather is perfect for starting an outdoor exercise routine like walking, jogging, or bike riding.

With still a quarter of the year ahead, why not review your goals for the year (remember that newsletter)? There's still time to accomplish your goals.

It's the perfect time to complete those delayed outdoor projects that didn't get done over the summer like planting grass and painting. Spend some time assessing your yard and making plans on what you would like to do differently next year.
September Statistic:

People spend 90% of their time indoors.