An Easy Tree and An Easy Holiday Season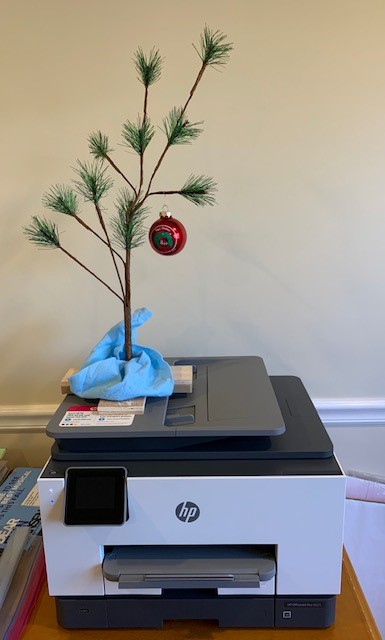 This Holiday Season, all my conversations related to prepping, hosting, decorating, cooking, planning, shopping, bringing-a-dish-for-sharing all started or ended with the same two, short sentences: "I'm remodeling. The house is under construction." Poof! Those magic words made for the easiest holiday season I have had since I was a wondrous child and my job was to be good for Santa and receive gifts. Unless we consider construction dust a decoration my house was barren from the mass of once-a-year collectibles I have assembled over the decades. I felt a small sadness from saying "This is the first time in my life I will not have a Christmas Tree." So, when I was at CVS one day, I spotted a boxed "Charlie Brown Christmas Tree" and knew it would fill that tiny sad little gap. It sits happily on the printer in my home office, on of the two rooms I am living in until the last minute when this and the bedroom need to be emptied too.  
In a conversation with the construction team before all this all began, the owner explained to me, somewhat hesitantly, that the house would not be completed by the holidays. He paused and waited for my reaction; most likely expecting me to postpone until after the season so as not to miss cooking a turkey and running around for the next four weeks. Instead I shouted, may a little too loudly, "Great!". The team seemed surprised. I felt relieved. A year off. Yes, I would welcome that.
Cards were sent. Pies were purchased. Gifts, bought on vacation in the fall, were gift bagged. Parties were attended with purchased hostess gifts. All I the things I did not do this year did not in any way take away from joy and fun of the season. My worry was more that I would disappoint others. But no, my concerns were unfounded. They were fine with it. And next year, with my new kitchen and renovated home of my dreams, I will no doubt take back the usual traditions of making homemade macaroni, wrapping gifts with pretty bows and ribbons, and making things nice for others as I like to do. But I will keep in mind a few refreshing insights of this gifted experience: that none of these to-dos are necessary to fully engage in the joyous holiday season, in its simplest form the holidays are about people and not things, and I can do less and enjoy more and no one seemed to mind.
Happy New Year! May all your organizing dreams come true in 2020!